Many Israelis would have been asleep when it began.
Saturday was the Jewish Sabbath and also a holy festival day, meaning families were planning to spend time at home together or in synagogue, and friends were meeting up.
But out of the dawn sky, a hail of rockets signalled the start of an attack that was unprecedented in its scale and co-ordination.
For years, Israel has fortified the barrier between itself and the small Palestinian enclave of Gaza. Within hours, its impenetrability was exposed as flawed.
BBC News has been analysing footage taken by militants and civilians on the ground to piece together how Hamas co-ordinated their most sophisticated attack ever from Gaza.
Rockets signal start of attack
At around 06:30 local time, the rockets began to fly.
The Islamist militant organisation – which controls Gaza and is designated as a terrorist group in the UK and elsewhere around the world – uses this tactic frequently.
The rudimentary rockets often struggle to evade Israel's advanced Iron Dome missile defence system – but thousands were fired in a short space of time to overwhelm it.
The scale suggests months of planning and stockpiling. Hamas says it fired 5,000 in the first round (Israel says it was half that number).
Air raid sirens began to sound as far afield as Tel Aviv – 60km (38 miles) from Gaza – and western Jerusalem and smoke was seen rising above towns where there had been direct hits.
As the rockets continued to launch, fighters were gathering where they planned to penetrate the heavily fortified Gaza barrier.
Although Israel pulled its troops and settlers out of Gaza in 2005, it still controls its airspace, shared border and shoreline.
As well as regular military patrols around the perimeter – which is a concrete wall in some places and a fence in others – there is also a network of cameras and sensors to prevent incursions.
But within hours, the barrier had been breached again and again.
How did Hamas get through?
Some Hamas fighters tried to bypass the barrier completely, including by flying over it on paragliders (unverified footage showed at least seven drifting above Israel) and by boat.
The Israel Defense Forces said they had repelled two Hamas attempts to cross into Israel by landing vessels on the beach.
But what sets this attack apart is the several co-ordinated, direct assaults on barrier crossing points.
At 05:50 local time, a Telegram account associated with Hamas's armed wing posted the first images from the ground, taken at Kerem Shalom – the most southern of Gaza's crossings.
They showed militants overrunning a checkpoint and the bloodied bodies of two Israeli soldiers on the ground.
Another image showed at least five motorbikes, each carrying two militants armed with rifles, passing through a hole which had been cut in the wire fence section of the barrier.
At a less guarded section, a bulldozer was seen demolishing a stretch of barbed wire-topped fencing.
Dozens of seemingly unarmed people were gathered there, and some began to run through the gap.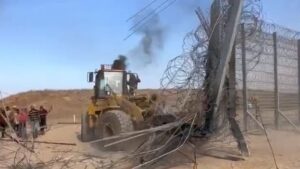 At Erez – the furthest north of the Gaza crossings, around 43.4km (27 miles) from Kerem Shalom – Hamas was swarming another crossing.
Footage was posted on one of the group's propaganda channels. It shows an explosion at the concrete barrier, which served as a signal to start the assault, and a militant can then be seen waving a group of fighters towards the blast site.
Eight men in bulletproof vests and carrying rifles run towards the heavily fortified checkpoint and fire at Israeli troops.
Later in the video, the bodies of Israeli soldiers are seen lying on the floor as the militants go from room to room sweeping the compound, clearly organised and trained.
Gaza has seven official crossings – six are controlled by Israel, one into Egypt is controlled by Cairo.
But within the space of a few hours, Hamas had found ways to enter Israeli territory along the length of the barrier.
Attacks reach deep into Israeli territory
Hamas fighters swept out of Gaza in all directions. We now know from the Israeli authorities that they assaulted 27 different locations, seemingly with orders to kill on sight.
The furthest Hamas penetrated was the town of Ofakim, which lies 22.5km (14 miles) east of Gaza. The map below shows the different areas they reached.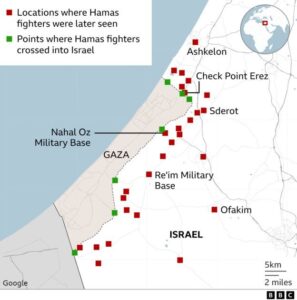 In Sderot, militants were seen standing on the back of a pick-up truck being driven through the town, which lies around 3km (1.8 miles) to the east of Gaza.
Around a dozen armed fighters were seen fanning out through the empty streets of Ashkelon, just to the north of the Erez crossing which had just been stormed.
Similar scenes were repeated across southern Israel and civilians were told by the military to hide indoors.
At a music festival near Re'im, gunmen fired at will at a large group of young people who had gathered in the desert.
An eyewitness told the BBC how the militants were driving around a van loaded with weapons and spent three hours searching the area for other Israelis to target.
Soldiers and civilians taken captive
We now know that hostages were taken from the festival and other locations and transported back into Gaza. Israel says 100 people – soldiers and civilians – have been abducted.
Footage taken in the town of Be'ri and verified by the BBC shows around four civilians being forcibly led away by militants.
Several videos have circulated online of Israelis, some of them heavily injured, being paraded through Gaza's crowded streets.
Other unverified atrocities too graphic to publish were captured on camera, including a motorist being dragged from his car and having his throat slashed, and the bodies of dead civilians and soldiers being defiled.
As well as targeting Israeli communities, Hamas also attacked two military sites: a base at Zikim and another at Re'im.
Footage taken from near Re'im shows the aftermath, with several burned-out cars scattered along the road to the base. It's unclear how many people were killed during the fighting.
Hamas's social media channels have repeatedly shared images of dead Israeli soldiers. BBC News has not verified these images.
Within just a few hours of the rocket barrage beginning, hundreds of Israelis were dead – and it happened in a way no-one thought was possible.
Help began to arrive in the stricken southern region within a few hours but Hamas, for a time, was in effective control of pieces of territory outside of Gaza.
The speed and deadliness of the surprise attack has stunned Israel. Questions over how it was able to happen will be asked for years.
By mid-morning, Israel's Prime Minister Benjamin Netanyahu declared: "We are at war."