By: Lolo Mhlanga
Rapper Gigi Lamayne has set in motion a defamation of character lawsuit against socialite and club host Inno Morolong.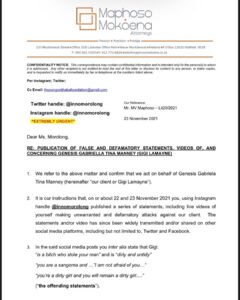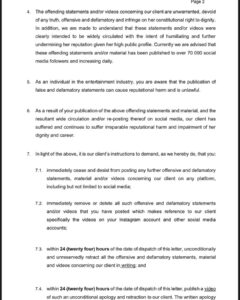 The rapper's attorneys sent a letter of demand to Morolong to remove all statements published on her Instagram handle where she launched a barrage of attacks on her.
On the 22nd and 23rd of November, @Innomorolong went live on Instagram accusing the rapper of copying everything she does and going after every man she dates calling her a dirty and untidy girl.
Inno Morolong calls Gigi Lamayne dirty and she is not scared of her. pic.twitter.com/cumD1HHu9G

— Musa Khawula (@khawula_musa) November 23, 2021
"I've never met this girl but she's after every man I date. WDF do u want from me? I even blocked you but you are busy going after me with your struggling rap career."
She further stated: "Why u after my boyfriend? You want our drama to start again? I will finish you Gogo?"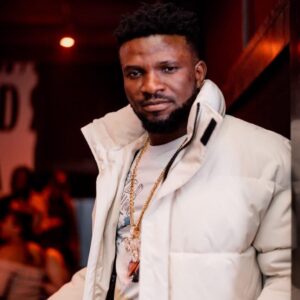 The quarrel between the two sparked when the Slaap Tiger hitmaker followed Inno's boyfriend Fermi Large on Instagram. She accused her of also dating her ex-boyfriend Chris Noriega.
Gigi posted a letter from her Attorneys in response to the allegations made;
"I have since engaged my attorneys to take over the matter and I will not be making any further comments/ statements regarding this issue."
Maphoso Mokoena Attorney's demanded she "Immediately remove all offensive and defamatory statements concerning their client on any platform including but not limited to social media."
It is further stated that Inno is given 24 hours to issue an apology and retraction to their client. Failure to do so will result in a 1M fine for reputational damage against their client.
Innocent Morolong has since deleted her Instagram handle.