By: Lolo Mhlanga
Media personality and socialite Paris Hilton has tied the knot with partner Carter Reum in a lavish three-day lavish that had the who's who of tinsel town in attendance.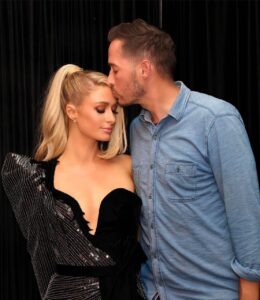 The businesswoman took to social media to share pictures of her special day. She posted a classic custom wedding gown by Oscar de la Renta on Friday with the caption "My forever begins today …11/11"
The 40-year-old got hitched on Thursday to entrepreneur and venture capitalist Reum. The couple has been friends for over 15 years and got engaged in celebrating their joint birthday vacation at a private island in February.
Writing on Instagram, she shared, "When you find your soulmate, you just know it, you feel it. My life and I have been together since our first date, And for my birthday, he arranged A special trip to a tropical paradise."
"As we walked to dinner along the beach, Carter led us to a Cabana adorned with flowers and dropped on one knee. I said yes, yes yes to forever," she continued to write.
Vogue reported the couple tied the knot in a grand ceremony at her grandfather Barron's former estate in California, Los Angeles.
Reports show the attendance of Hollywood's who's who including Kim Kardashian, Emma Roberts, Evan Ross and Bebe Rexha, to name a few.
The reality star has documented her journey to forever after in her new show "Paris in Love", which is now streaming on PeacockTv.
"Now that I finally found mine, I can't wait to share it with you for the rest of our lives. You're the first man I've opened my heart to you and shown who the "Real" Paris is. I'm so excited to show our most beautiful love story," Hilton shared on social media.