Lolo Mhlanga
Former Miss USA Cheslie Kryst has died after falling from a building in Manhattan.
Social media was abuzz shortly after the news of her death became public. According to the New York Post, the 30-year-old jumped off her apartment building in Manhattan, New York on Sunday morning and was pronounced dead on the scene.
"In devastation and great sorrow, we share the passing of our beloved Cheslie. Her great light was one that inspired others around the world with her beauty and strength," said the family in a statement released on social platforms.
The family shared how Kryst embodied love and served others, "whether through her work as an attorney fighting for social justice, as Miss USA and as a host on EXTRA," the statement continued.
The former beauty Queen worked as a presenter on the entertainment news shows Extra, in the US. Pouring their condolences in a statement, the program expressed their heartbreak following her death. They described her as "not just a vital part of our show, she was a beloved part of our EXTRA family and touched our entire staff."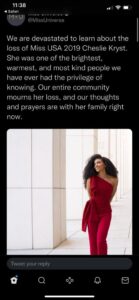 The Miss Universe and Miss USA community also shared condolences and fond memories of the beauty queen. They described her personality as "one of the brightest, warmest, and most kind people we have ever had the privilege of knowing."
In light of this they also made awareness of mental health, providing help for those struggling with suicidal thoughts.
Close friends to the lawyer commented on the last picture she posted on Instagram moments before she leapt to her death.
One of them was Zozibini Tunzi, a finalist with her in the pageant. She expressed her devastation and disbelief.
"You took me by surprise, Queen. I am not ready for a world you don't exist in. I hope you are resting easy now love. You meant everything to so many people, and you forever will," she wrote.
"You made your mark in this world and touched so many lives. We celebrate your life. I love you so so much, my forever friend and forever Miss USA."
Kryst was Miss USA in 2019.